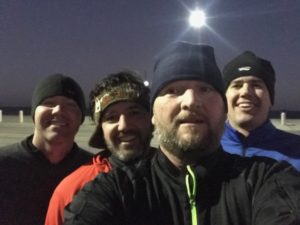 YHC had so much fun with the Pax at the Foundry in the below freezing temperatures the day before that he just had to sign up and take the Q for the gelid wind conditions expected to be at the angry Okwata. Upon arrival to the Okwata AO with one minute to spare, YHC found two Pax he had never seen before. Two Pax from F3 Birmingham were in New Orleans on business, but nobody told them the city was pretty much shut down. But these F3 men scoff at wintry weather conditions, and YHC was pleased to see them. This would not have been a good day to be a Pax of one! Wait, where are the NOLA men of F3? No time to think about that. Good thing Hawgcycle showed up and found us with his crochet visor and gloveless! I nearly lost hope for F3 NOLA!
With no shovel flag to plant, YHC gave a brief disclaimer, and then…
Mosey across the levee to the south side, where Hawgcycle found us. The thermometer read 25 degrees, and the wind chill brought that down to a "feels like" 12 degrees or so. Any hospitable host would do what he could to keep guests somewhat shielded from the gelid wind of the north!
Circle up at the base of the levee for warmup:
SSH IC x 20
IW IC x 20
Taking a sheet from the Shorty Q book, mosey to Lakeshore Pkwy for some Circuits, as the Pax needs to get warmed up more:
Circuit one: Starting at the middle lamp post, call it #2, sprint to #1 lamp post and do 10 merkins. Run back to lamp post #2 and do 10 merkins, then run to lamp post #3 and complete 10 burpees all OYO
Circuit two: Starting back at lamp post #2, sprint to #1 lamp post, complete 10 Catalina Wine Mixers IC, run back to lamp post #2 and complete 10 merkins IC, then run to lamp post #3 and complete 10 burpees OYO.
Now the Pax is nice and toasty, but can't slow down now! Mosey to Canal Street for some BLIMPS:
Corner of Amethyst and Canal: 5 double merkin Burpees OYO
Run over the levee to the north side, enduring the gelid wind, to Lakeshore Drive: 10 Lunges IC
Bear crawl across the median (oops, called it the wrong thing – thanks Hawg) err…Neutral Ground….to the other corner: 15 Imperial walkers IC
Run across the levee to the other corner of Amethyst and Canal for: 20 Merkins IC (4 count of course)
Bear crawl across the neutral ground to the first corner: 25 Plank jacks IC
Run across the levee against the gelid winds again to finish it off: 30 squats IC
Mosey back to the south side of the levee for an Okwata favorite: Burp Back Mountain! Modified due to time.
Partner up, Pax 1 begins burpees at the base of levee. Pax 2 runs backwards up the levee (quadraphilia) and down three times, then rotate. Goal is 50 burpees cumulative.
With 6 minutes to go, only one thing will do:
6 Minutes of Mary! All IC
Flutter Kicks x 20
Hello Dolly x 20
Tin Snips x 20
Freddie Mercury x 20
Russian twist aka Putins x 15
WW2 situps x 10
Times up, mosey back to the VSF.
COT
Count off, name-o-rama, announcements, intentions and close with a prayer.
NMM
The announcements were pretty short, not only because it was frigid, but also because it was really just YHC and Hawg from NOLA. With the roads shut down, YHC was impressed with Hawg's determination to make it to Okwata. T-Claps to Mullen and Zacchaeus from F3 Birmingham for posting on this cold morning. It's always great to see men from other regions post, and F3 NOLA always welcomes them with a good beat down.
The Q signup sheet has a lot of blanks on it. See what you can do to remedy that…..